Seafood Sauce Filling Machine Equipment Double Head Automatic Granule Sauce Filling Machine Manufacturer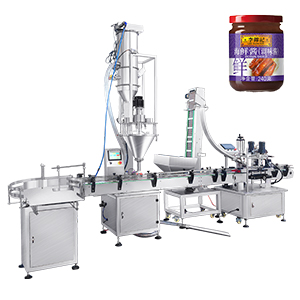 As a kind of sauce production equipment, the appearance of
bottle filling capping and labeling machine
also represents a sign of progress. At the same time, the technical level of plastic bottle filling machine has been continuously improved, which also shows that the technical strength of our country is gradually increasing. With the joint efforts of the seafood sauce filling machine, its own technical level has been significantly improved, and its functions have also been comprehensively upgraded. The manufacturer of
double-head automatic bottle filling machine
goes through all the resistance and changes the status quo of poor quality, low stability and low production efficiency of
small scale bottle filling machine
. Only in this way can we have a better market future.
Food safety has always been a concern of consumers, so the hygiene and safety of hoisin sauce filling is more of a concern for enterprises in their production and packaging. Only packaged healthy and hygienic food can be purchased and eaten by consumers. The material contact part of the equipment is made of sus304 stainless steel, which meets the requirements of food safety and hygiene.
water bottle filling machine
sauce is equipped with the function of no bottle and no filling. It can quickly adjust bottles of different shapes and specifications without changing parts.
automatic bottle washing filling capping machine
is equipped with an automatic stirring function, so that the sauce can be mixed evenly, the auxiliary materials can be adjusted, and the operation is convenient.
automatic glass bottle filling machine
is designed with an integrated concept, which is convenient for enterprise maintenance.


contact us:
Call Us: +8613124832882




Email Us:

Huang@shjoygoal.com




Whatsapp:

+8613124832882




Address: NO.768 Jiyi Road, Haiyan County, Jiaxing City, Zhejiang