Pepper packaging machine and pepper filling machine make products more hygienic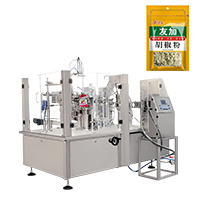 horizontal pouch packing machine
and
stand up pouch packing machine
is a single head powder filling system, which is applicable to filling of bagged food and bottled powder such as pepper powder, pepper powder, pepper salt powder, pepper powder, cumin powder, pepper powder, pepper powder, chicken essence, barbecue powder, sesame powder, salt baking powder, seasoning powder, flour, starch, etc.
It is composed of pepper
pouch packing machine powder
+screw metering filling machine+
screw powder filling machine
, with fully automatic operation, realizing product packaging assembly line operation, improving enterprise production efficiency and significantly reducing product costs. This machine conforms to the hygienic standard of food processing machinery. The parts and components on the machine that contact with materials and packaging bags are processed with materials that meet the requirements of food hygiene. It has the hygiene and safety of food.
The packaging process is as follows: 1. Automatic bag taking → 2. Bag opening → 3 detection → 4. Filling materials → 5. Bag opening dedusting → 6. Primary sealing → 7. Secondary sealing or sealing shaping → 8 Production date marking → 9. Finished product output and bagging.